NJ Powell Roofing in Taunton
19 Salisbury Street, Taunton, Somerset TA2 6NA

We use Firestone RubberCover EPDM roofing
membrane, simply because it provides outstanding
results and gives us happy customers!
Leak-free rubber roofing Taunton and the
whole of the South West

Problems with flat roofs are usually caused by poor
quality installation, physical damage or the kind of
defects that were common with old-type flat roofs
including:
Rubber Roofing
We are also specialists in fibreglass roofing - please
contact us for details or for a free, no obligation flat
roof quotation.
We will be happy to prepare a free, no obligation
quotation for anything from a minor repair to
complete installation of the largest of new roofs!

Proven track record of durability and overall
performance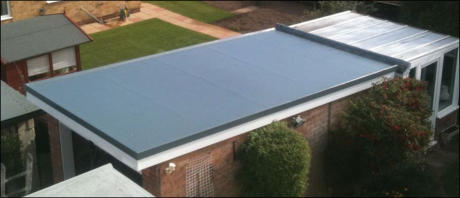 Superior longevity and durability - the membrane
can elongate by over 300% so even dramatic building
movements are easily accommodated.
Unmatched resistance to aging as a result of
exposure to UV radiation, ozone or extremes of
temperature. It remains flexible at temperatures
down to -45°C.
Availability in sheets up to 15m by 61m which
means there will be fewer seams and hence faster
installation.
Quick and hassle free installation.
Little or no maintenance - fit it and forget it.
Our work is always to the highest standards and
results in long lasting protection backed up with
a 10 year guarantee or longer.

Environmentally friendly - Firestone RubberCover
membrane is an inert material and so has limited
environmental impact either in its use or during its
manufacture.